The parable of mustard seed
The parable of mustard seed
Media: Acrylic On Canvas
Size: 35(W)x45(H) cm

Production: 2014
Painting code:
F0002
Authentic
//print_r($posts); ?>

USD$200
Membership offer USD$180
Description: 眼看這三片葉好像很小的苗,其實這已長大了,是樹頂上的三片葉。飛鳥都要飛來休息。 因此不要只看表面或部份,要全面地看。也不要小看自己和別人。 Topic: The parable of Mustard Seed Seeing these three leaves like tiny seedlings, in fact, this has been grown up, is three leaves on top of the tree. Flying birds are flying and take a rest. Therefore, do not look at the surface or in part, take a comprehensive look. Do not underestimate yourself and others.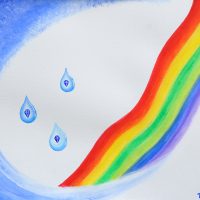 Ariel Au
Other Painting of the Artist: