God's Glory
God's Glory
Media: Acrylic On Canvas
Size: 40 (W) x 50 (H) cm

Production: 6 Oct 2014
Painting code:
G0001
Authentic
//print_r($posts); ?>

USD$190
Membership offer USD$170
Description: God's presence is full of glory and peace. This painting show God Himself as Father God, Jesus Christ and Holy Spirit. Holy Spirit is represented by the pigeon, fire and water. The crown represents Jesus Christ. Rainbow color as a background represents God's covenant and this is full of brightness, glory and blessing in His presence.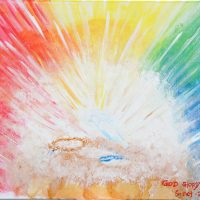 Yisrael Yip
Other Painting of the Artist: