Fire on the Altar
Fire on the Altar
Media: Acrylic On Canvas
Size: 50(W) x 60 (H)cm

Production: 2015
Painting code:
G0022
Authentic
//print_r($posts); ?>

USD$400
Membership offer USD$380
Description: This painting was done authentically during the worship in the celebration of festival of light in 2015. When the fire of prayer is burning, we all see the light of the Lord shine on me. The Holy Spirit casts like a fire, and the bird is flying toward the holy ones of Israel. We raised our hands to welcome the Lord's grace, but also to pay tribute to the flag! 當禱告的火正在燃燒時,我們都看見主的光也照耀著我。聖靈如火般澆奠,也如鳥一般向著以色列至聖者飛奔過去。我們舉手歡迎主的恩澤,也向昇旗揮手致敬!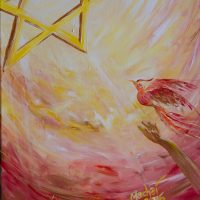 Ma Chai