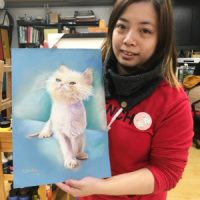 Shirley Chan
When I first began as an artist it was the subject of cats that captivated me. I believe it is because cats are creatures with very beautiful qualities. And I just love to capture it for everyone to see.
As a person born of the post eighties, our society may view us as outspoken but deeply we love Hong Kong as we express. I am a 3rd generation Christian having gone through a journey of enlightenment, having been lost and then found by His Amazing Love and Grace.  With these unique qualities I pray Our Heavenly Father will use them through me, as an upcoming artist to bless our community and society today and forever. Amen!
當我的世界遇見貓….
從此我的畫作大部份也已牠們為主題,因為貓兒都有自己的故事,有令我流淚和歡笑。希望以貓主題的畫作令社區關心無家的小動物,讓人看見生命的價值能實踐生命影響生命。
同樣,我也是 –
香港80後的典型「中青」….
在網絡或社會上普遍被標籤大膽激烈手法表達對現今社會現況,其實正正代表心裡愛香港。
家族中的「信三代」….
經歷過開啓、迷失、重回,祈盼上主揉合兩者的身分讓人們看見信仰的真實和祝福。
無名的「藝術家」….
由不懂作畫到執筆,立意畫出心中所想的,願上主感動我的也加倍感動你們。祝福大家!
Art exhibition
2017          "Bless Asia 2017 Exhibition" in Central Library
2016          "Never give up" in Hong Kong Exhibition and Convention Centre
2014           Art to Fly 10th exhibition薈彩25第十屆年展展覽
2012          "Crown of Glory" in Hong Kong Exhibition and Convention Centre
2011            Become an art student of Master Frank Kwok