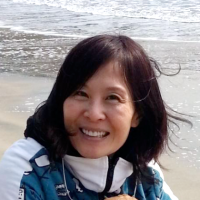 Nancy Lee
Artist, Nancy Lee 畫家, 李淑英
"I paint because I love painting. It all starts with worshipping God our creator. Brushing with vibrant medium in free flows of liquids, forming splashes of color, and exquisite textures, with rich hues on titanic-white canvas … or simply edging black ink …or rainbow watercolors on archival papers." Nancy expresses herself succinctly the works of her hands.
Christianity Oeuvre is Nancy's signature style. Nancy is a devoted Christian and a founding member of Artist Cradle, a charitable organization in Hong Kong which evangelizes through Christian art working. Fascinated with the field trips to Jerusalem since 2006, Nancy revived her passion toward fine art and became motivated to learn from Master artist Frank Kwok, and Grandmaster Stephen Yau, subsequently creating artworks spiritually as a fine artist. Early works expressed her inspirations towards the Holy City, olive trees and olives in ink, water color and oil. Her solo exhibition surveyed her artistic spiritual world into the new olive series in acrylic opus. Hebrew words have been her recent theme.
The spiritual sensation of each art piece embraces the fruit of the Holy Spirit – the fragrance of love, joy, peace, patience, kindness, goodness, faithfulness, gentleness and self-control (Galatians 5:22).
Art Exhibitions
2017  Bless Asia 2017 Exhibition in Hong Kong
2015 IAECA First Exhibition in Hong Kong
Art to Fly 11th exhibition
IWS Hong Kong 1st International Watercolor Society of Hong Kong members show
2014  "Collective Chemistry" exhibition, New Gallery on Old Bailey NGOOB,     (www.newgalleryonoldbailey.com)
"Affordable Art Fair" Hong Kong Exhibition and Convention Centre
Art to Fly 10th exhibition       Hong Kong
2013     "Clique Art", featured 3 generations teachers-artists' works from Grand Master Stephen Yau to Master Frank Kwok to 3rd generation artist, NGOOB Hong Kong
2012     First SOLO "The Colors in Life" featuring the Olive series in acrylics, JM Style     Furniture & Gallery, Hong Kong www.gallery.jmstyle.com.hk; posted in Hong Kong Economic Journal
"Crown of Glory" The 1st Annual Exhibition by Artist Cradle Co. Ltd. in Hong   Kong Cultural Centre
2011      May- December Amity Charity Gallery of Amity Foundation, Guangzhou, China
'Dreams to Fly 1+1+1+1' art exhibition: 20 watercolor &/ ink artworks exhibited in Hong Kong Cultural Centre
Joined "HK3", a group exhibition of three Hong Kong artists at NGOOB, Soho Hong Kong
"Connected" 8th Annual Exhibition of Art to Fly in Hong Kong Cultural Centre
Group exhibition for "Gratitude for Hong Kong" at Hong Kong Exhibition & Expo Centre
2008   7th Annual Exhibition of Art to Fly Hong Kong Cultural Centre
Activities:
2012 – 2015           Prophetic paintings demonstrations, workshops, auctions and donations during Authentic Worship mission trips (European mission trip reported in July 22, 2012 issue Kingdom Times, Hong Kong and www.authenticworship.com )
2012     'Olives in Red' presented in Art to Fly 9th exhibition booklet, and as chosen postcards evangelism by Mongkok Art Ministry created by Kenneth Harley www.iwirehk.webs.com Hong Kong
Selected as Chairperson of Art to Fly, a non-profit organization with vision for art    culture development in Hong Kong http://sites.google.com/site/arttofly/ Facebook
Joined Kingdom Arts Union ( connected with Taiwan Christian artists);
2011      Director & Founding member of Artist Cradle Co. Ltd  (incorporation May 27, established charitable organization in November 2008 ) . A non-profit organization with vision for art culture transformation in Hong Kong
"Prayer of Hope" painting auctioned with proceeds donated to Bright Angel Fund of Chinese Red Cross Foundation China
2007  Become an art student of Master Frank Kwok and GrandMaster Stephen Yau