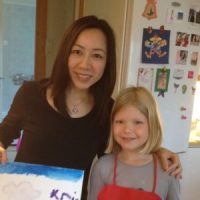 Pearl Ida Chen
I had been worked in the bank for more than 15 years and completed the master degree and degree in business. I never thought that I would become an artist. In my memories, I didn't enjoy 'art' class, even hated painting. When other people asked me to paint at work, I was complaining about. I didn't know how to paint and what to paint. In 2011, when I witnessed a sister painting on the stage. I asked God why people paint so easily, but it was so difficult for me. Suddenly, I began to draw with God in my spirit. It was about Peter walking on the water through Faith. At the same time, Pastor Laszlo shared a testimony of this sister and he invited me to paint in the next month. I thought it was a surprise from God and I didn't know what I could do, only pray and ask God to help me. During that period, God has healed my heart and restored my life when I forgave others and received forgiveness from God. That night, Frank prayed for me before I painted and God helped me to complete it. This was a first time painting in the stage authentically. Since then I have seen some images and like to draw them down for God and have learnt painting from the artist teacher Cephas Chan and Frank Kwok (Artist Cradle Cradle founder of the artist).
Since 2012, my teacher Frank invited me to participate in few art exhibitions. This was impossible for Man, but possible for God. God has transformed my life and has opened doors to me for participating Authentic Worship mission trips many times. We have gone to many different nations and shared the message of God. This is a key of my life and painting transformation. I have experienced how God gave me pictures and messages in pray, how Holy Spirit taught me how to paint and to interpret the meaning behind. This is my honor to serve God through painting. All of my painting is the only one and I won't paint twice for the same painting. As I believe that every painting is unique creation from Holy Spirit through my artwork. I prayed that God touches everyone whoever see the painting and can meet God.
I love colors and feel that it gives lots of life and joy. I enjoy painting and creating different artworks, also I start to realize that I have an ability of creativity and sense of differentiating the beauty of artworks, feeling behind.  My vision is to paint the beauty of this world, visions and messages which I receive. Blessing people and society with my artworks. I hope that my artworks can influence many people over the world and bring blessing, positive energy, healing, comfort, love and peace to them.
Today, I become an artist for God's kingdom.  Thank you my teachers and Pastors, Friends and Family who support me. Thanks God for what He has done in my life.  Glory be to God.
Art exhibition
2017          "Bless Asia 2017 Exhibition" in Central Library
2016          "Never give up" in Hong Kong Exhibition and Convention Centre
2015          IAECA in Hong Kong Exhibition and Convention Centre
2012          "Crown of Glory" in Hong Kong Exhibition and Convention Centre
2011           Become an art student of Master Frank Kwok